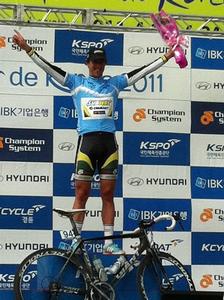 Paul Odlin wins last years sprint jersey :: www.subwaycycling.co.nz
| | |
| --- | --- |
| CYCLING | Wednesday, 18 April 2012, 4:14 PM |

SUBWAY® Pro Cycling aim for similar success in Korea
By enthuse



The SUBWAY® Pro Cycling leaves tomorrow to race in the UCI 2.2 Tour de Korea where it hopes to have similar success to last year.

Oceania Champion Paul Odlin won the tour's sprint jersey and the team's General Manager Hayden Godfrey is confident the team will again perform well continuing its fine run of form as it tackles its second international event of the year.

"We have racked up a series of good results in New Zealand and had a solid hit out in Singapore last month," Godfrey said. "We are looking forward to stepping it up a notch against some strong international teams."

SUBWAY® Pro Cycling is taking a team of six to the eight stage 1100 kilometre tour. Godfrey said the team had been selected on form with all the riders going to Korea riding well and deserving of their places.

"Paul (Odlin) and Sam (Horgan) had a very strong Oceania Championships last month with wins in the road race for Paul and time trial for Sam. Nick (Lovegrove) won Graperide and Sam won Le Race, with the team dominant in both races."

Odlin demonstrated his form with a win in Around Brunner on Saturday, a race which saw Horgan come third in their final hit out before leaving for Korea.

"The guys who raced in Brunner were strong and going well. We are also really happy to have national track representatives Wes (Gough) and Pete (Latham) joining us for Korea to further strengthen the line-up," Godfrey said.

"The team is going better at this time of year than it was last year, and both Pete and Wes performed very well for New Zealand on the track at the recent world champs in Melbourne. But it's a little bit of an unknown going from four minutes to four hours so it will be a bit of a wait and see to see how they adjust."

Gough won two bronze medals in Melbourne – in the team pursuit and individual pursuit – and set the second fastest time by a New Zealander winning the bronze medal. Gough and Latham are both aiming for Olympic selection for London. The team is named in late June.

Godfrey said that although a clear goal was a stage win he felt the team had enough strength to adjust and adapt to whatever happens on the road.

"Last year's race had some long tough climbs. We think this year's route is a little flatter which will suit us better, but we'll know more once we get there."

The UCI 2.2. tour includes a mix of pro Continental and Continental teams from Asia and the United States. The event starts on Sunday 22 April and finishes on the following Sunday.

It passes through 10 cities in Korea including Incheon, Buyeo, Gwangju, Yeosu, and Yeoju.







MULTISPORT
Multisport festival attracting athletes of all descriptions
Inspirational comebacks, elite stars, national champions, first-timers and fun-chasing families  - this year's Thermatech 3D Rotorua Multisport Festival has got it all.
Thursday, 23 May 2013
RUNNING
2013 Nauti Travel Huntly Half Marathon
The 2013 Nauti Travel Huntly Half Marathon is once again taking place this Sunday for the 33rd time in what has become a race rich in history and 2013 provides much the same.
Thursday, 23 May 2013
RUNNING
20th birthday celebrations set for iconic Taupo event
On Sunday 4th August a special birthday party will be taking to the streets of Taupo and everyone is invited! The annual Mizuno Taupo Half Marathon will be celebrating its 20th birthday.
Wednesday, 22 May 2013
CYCLING
Archbold scores first win for new pro team
BikeNZ Olympian Shane Archbold has taken no time to strike for his new professional team with victory in stage two of the An Post Ras Tour of Ireland today.
Tuesday, 21 May 2013
TRIATHLON
Bozzone bounces back with race record win in Florida
The 2008 IRONMAN 70.3 World Champion Terenzo Bozzone has put his injury problems behind him with a comeback win in Florida today.
Monday, 20 May 2013
TRIATHLON
Sisson looking for swim solutions to back his blistering run speed
Ryan Sissons knows what he is capable of and his 10km run split at the ITU World Triathlon Series race in Yokohama yesterday again hinted at it, but the 24 year old Aucklander is again cooling his heels after a less than satisfactory swim.
Monday, 13 May 2013
TRIATHLON
McIlroy holds on for top ten on a 'flat day' in Yokohama
Kate McIlroy made the most of a bad day at the office when finishing 9th at the latest round of the ITU World Triathlon Series in Yokohama today, a result that leaves the Wellington athlete 7th in the overall series standings after three races.
Sunday, 12 May 2013
Endurance Sport news is powered by infonews.co.nz